Birkdale Trust for Hearing Impaired Ltd.
The Birkdale Trust for Hearing Impaired Limited have issued a statement about the Trust, and how to apply for grants. This Trust is a grant-making trust, which is now operational, and application forms for grants are currently available.
The statement reads:
The above Charitable Trust, which has taken over all the assets of the former Birkdale School for Hearing Impaired Children Limited, is now fully operational.
Its main charitable Objects are:
(a) to advance the education of children and young people, with particular reference to those with a hearing impairment;

(b) to advance any other charitable Object which promotes the welfare of hearing impaired children and young people, which may conveniently be pursued in conjunction with the pursuit of the first mentioned Object.
The Trustees would welcome applications for grants and application forms can be obtained from:
Denis H. Hobley
11 Silverthorne Drive
Southport
PR9 9PF
Staff News
Pete Munro, former Head of Care at Birkdale, wrote to tell us former member of the Care Staff Paula Kelly has had a baby boy. Many congratulations to Paula!
Pete is now working at Witherslack in Southport, and the young people in the home where he works all go to Pontville School. Pete says Miss Moore and Mr Morgan, both teachers from Birkdale, work at Pontville.
On a visit to Crosby High School in October, your Editor, Tony Wright, met Mrs Clare and Mrs Nicholson, who are both now working at the school and enjoying their jobs.
Wedding Bells
Carly Meredith-Smith and Sean Lucas have announced they are getting married on 25 March 2006. Congratulations to them both!
E-mail From Louise
We have heard from Louise Warren (formerly Louise Mather), and she asks if anyone remembers her. Louise was at school in 1985, but left in 1986. She writes that she is 24 now, and that she changed her name because her mother married again to her stepfather whose surname is Warren.
Louise was born in Warrington, Cheshire, and she is still living there. She says she misses us alot, and remembers Tony, Mrs Wood, Miss Brown and ex-pupils.
Looking Neglected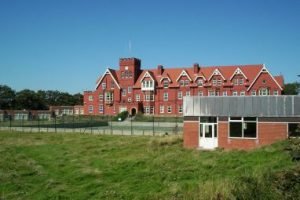 It's over a year and 4 months since the School closed, and the grounds are looking overgrown and neglected. The grass is growing very tall, and weeds are spouting up everywhere.
College News from Maryam
Maryam Kamel failed her Business & Communications exam at Southport College, but passed the I.T. course. The exams were very hard, and Maryam says most times in class they just talked and she couldn't hear tutors as one of their voices was very low/quiet.
She has started college nearer home now – it is sponsored by Bournemouth & Poole College U.K., like Coronation St. is sponsored by Cadburys'. The course started in October – Maryam has already made some friends, and they are hearing. She will be doing a part-time Fashion Design course til January 2005.