Reunion 2009
Following the d
isappointment of Reunion 2008, the Reunion Committee have announced that the next Birkdale Reunion is to take place at the Talbot Hotel, Southport on 10 October 2009 from 7.30pm till midnight.
There will be no disco, but background music will be provided.
Tickets are £12 each, which includes a hot/cold buffet.
You can order tickets from:
Steven Brayshaw
[address previously supplied]
Please send a stamped addressed envelope with payment when ordering tickets.
Make cheques/postal orders payable to Birkdale Reunion Association.
Tickets will be sent from 1 March.
To reserve places for Reunion 09, please send email to info@bshira.co.uk. Those that have sent requests for tickets already have had their orders passed on to Steven. He will despatch the tickets when he receives payment. People can continue to use the above email address to order or you can write to Steven direct.
Hotel is offering a special price of £45 per night per room (includes breakfast). Price is for two sharing a room, but also applies to a single person. Please note: no lift or ground floor rooms available.
All 24 rooms are being held exclusively for us till 1 March, and after that date bookings will be taken from other visitors, but you can still get the special rate at a later date. When you book, quote "Birkdale Reunion". Book early to avoid disappointment!
Contact:
Gilbert Petrie
Talbot Hotel
23-25 Portland Street
Southport
PR8 1LR
Phone: 01704-533975 Fax: 01704-530126
Email: talbothotel@btconnect.com
PLEASE ORDER YOUR TICKETS/BOOK HOTEL
ACCOMMODATION EARLY TO AVOID DISAPPOINTMENT!!
Mrs Henderson
We are very sorry to report the death of Mrs Henderson. She passed away peacefully on Friday, 7 November following a short illness.
Mrs Henderson's funeral took place on 14 November at the United Reformed Church on Grosvenor Road, Birkdale. This was followed by a committal at Southport Crematorium. There were many mourners present, more than was expected. The church had to open up at the back to allow more people in. Some attendees joined family and friends at the Cambridge Hotel on Cambridge Road afterwards. Donations were made to Children in Need.
Mr Henderson said in his tribute speech that he had received over 100 cards and letters. Many of you have signed our Guestbook as well and copies of these messages will be given to Mr Henderson. He said he found the support "amazing", and he wishes to thank everyone who sent in messages of support or who were there at the funeral to pay their respects.
Doreen Woodford's Book
A new book by Doreen Woodford, former President of The British Association of Teachers of the Deaf, has been published. It was launched on 6 December in Liverpool, and is called The Education of the Deaf in Liverpool and on Merseyside 1825-2003. Our school is featured and there are stories from ex-pupils.
The book costs £6.50 and should be available from the BDA. Those living in the Warrington area may be able to get a copy from the BDA office at the Deaf Club.
Janet Hollywood Gets Engaged!
Former
pupil Janet Hollywood has announced her engagement to Carl. He proposed to her on the ski slopes at Kitzbuhel in Austria on Boxing Day. No dates have been set for the wedding yet.
Many congratulations to Janet & Carl!
Chairman's Comments re: Reunion 08
For several years a reunion has been held every two years at various hotels in Southport. Most of them have been very successful. One or two have been fairly low attended, but still supportive.
On 24 May 2008, a reunion was held at the Talbot Hotel in Southport, but unfortunately, this was not successful. Only 50 ex-pupils attended, which meant the buffet and DJ had to be cancelled. Ticket money was refunded.
At the event I asked if there was a reason for the low attendance. Some of the points raised are as follows:
Q – The School is closed so the reunion is discontinued.
A – This is not so. The closure does not affect the reunions.
Q – Not advertised.
A – We are on the internet and were on teletext. Should we have done more?
Q – Having reunions in May not popular anymore.
A – Late June and mid September is now being considered.
These were some of the main reasons given and greatly appreciated. To enable us to make future reunions successful again, any feedback is welcome on info@bshira.co.uk.
The next reunion was scheduled for the year 2010, but due to the previous event being a disappointment, it will now be brought forward to 2009, pending hotel availability and feedback from yourselves.
Due to Dorothy Caven resigning from the Committee, a vacancy is now open for volunteers.* Dorothy has worked hard over the years and will be missed.
I hope this statement will give a clear understanding of what we are trying to achieve.
Billy Lamont (Chairman, Birkdale Reunion Association)
* Ronnie Gilbody joined the Committee in 2008 after Dorothy resigned. Since then, Tony Wright has also left the Committee. The current Reunion Committee members are:
Billy Lamont, Steven Brayshaw and Ronnie.
School Development Plans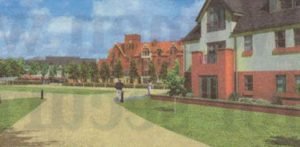 According to the Southport Visiter, published in April and June last year, plans are being drawn up by property developers Audley Court to turn the school site into residential apartments for older people.
It seems the main building would be kept, but the other flat-roofed buildings would be demolished. The land to the front would be kept as open space with it being opened up for public access.
It is hoped the first residents would be living there from Christmas 2009.
Source: Southport Visiter
Mr Henderson's News
As President of the Southport & District Badminton League, Mr Henderson a
ttended a dinner to celebrate the league's 75th birthday at Formby Hall Golf Club in May 2008. More than 250 guests packed the hall to mark the league's achievements.
According to the Southport Visiter, Mr Henderson continues to play badminton for Southport and remains very competitive.
In December 2008, Mr Henderson was admitted to hospital following a mild heart attack. After a short stay in hospital, Mr Henderson moved to Westcliffe Manor on Westcliffe Road near where he lives. At the beginning of January, he returned to his flat. He sent the following message:
"To every single person who reads this: a very Happy New Year!
I thank you all for your thoughts and support. I was greatly helped by everyone when my dear wife Joan died on 7 November 2008. Your support for the donations to Children in Need has been shown by a total of £981.45 being raised. Fantastic! My wife Joan would have been very pleased.
On 13 December at about 2pm I was taken into hospital with a mild heart attack and was kept in until I got the all clear. I had to go into a Care Home because I had no-one at home to look after me, and I spent Christmas in the Care Home. I am now back in the flat as I returned from the Care Home on 3 January, and have just completed 4 days at home in my flat.
Once again, I have to thank you most sincerely for your continued thoughts and best wishes. You have all been very kind and supportive to me. God bless and look after you all. "
Gareth Williams
We are sorry to hear of the death of former pupil Gareth Williams who died in hospital on 20 May