Harvest Festival
On Thursday 3 October the annual Harvest Festival was held in school. Two interesting speakers gave staff and pupils some insight into very different ways of life.
Mr. Gerald Rimmer, a local shrimper, gave a fascinating slide show about the shrimping industry in Southport, a way of life which has been going on for over 150 years and now sadly is on the decline.
Mrs. Ruth Dalton then talked to us about a school for the deaf in India with which she has connections and which she recently visited. She showed photographs of the pupils and their classrooms and made us aware of how fortunate we are in Birkdale with all our facilities, although she was keen to stress how happy the pupils were and how much they appreciated their education.
Many of the pupils live far from the school, but cannot afford to pay for their hostel fees of £100 per year. ("Is that all?!" said Kaylee) A collection was taken and £163 was donated for hostel fees, a wonderful result. Birkdale School is also sending some hearing aids which we no longer use as the pupils in India have very few hearing aids and Year 9 are writing letters to the school. We hope to build up our contacts and aim to have a fund-raising event in the coming term.
Angela Baron (staff)
Patter of Tiny Feet
Louise Clark gave birth to a baby boy, Leon Matthew, on 12 November, weighing 8lb 6oz. Both mother and baby are very happy.
Claire Williams and Scott Pounder are proud parents of Jack James, who was born at 1.58am on 18 June. Jack weighed 6lb 1oz at birth.
Paul is Famous at Last!
25-year-old Paul Ashworth continues to work as an Administrative Assistant at the South Yorkshire Workforce Confederation Trust, where he has been working for 3 years.
Paul says, "It was the Disability Officer at my local Job Centre who helped me find this job. I was looking for something IT based to use my IT BTEC diploma and City and Guilds Business GNVQ. Much of my work is computer based involving database management and providing technical support for the Confederation website."
Paul's profile can be seen on the 'Disability Campaign' section of this website, under 'Profiles': www.sypromotingdiversity.nhs.uk
Paul Ashworth (ex-pupil)
Carol Service
You are invited to join staff and pupils at Emmanuel Church, Cambridge Road, Southport, at 7pm on Thursday 12 December.
Refreshments will be available after the service in the Church Hall. Please come and join us!
Chatterdays Playgroup
Starting in the New Year, 'Chatterdays Playgroup' will be offering a stimulating environment where both hearing and deaf children are encouraged to develop in a language-rich setting. 'Chatterdays' will be open to children over 2 years of age.
The playgroup has the use of two acoustically treated rooms, which helps create an easy listening environment, and an enclosed outdoor play area with access to the grounds of the school, including the field and the wooded area, ideal for 'Bear Hunts'!
Chatterdays Playgroup' will be meeting on Tuesday and Thursday mornings from 9.30 to 12pm. A fee of £3.50 per session will be charged. For more info, please contact 'Chatterdays Playgroup' at the school or [phone number provided].
Diane McSharry (staff)
Swimming Gala Results – Report 1
The North Regional Gala took place on 16 October at the Irlam Pool. Birkdale achieved four individual Gold Medals.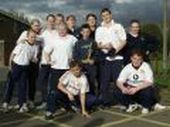 Harry Mook in the Individual Medley and Freestyle, James Dixon in the Butterfly and Christopher Maher in the Freestyle. The boys also achieved a team Gold Medal in the U17 Freestyle Relay.
The final results of the Gala showed Derby winning the 'Girls' Trophy', Birkdale winning the 'Boys' Trophy' and the 'Overall Trophy' being won by Derby.
Jack Henderson (ex-staff)
Report 2
The National Gala took place at Birmingham on 14 November, We had a good trip down until we found the road works near the pool, which upset our navigation to it. Once at the pool, all the squad tried their best and as a result we brought back a haul of 13 medals.
We were competing as members of the Northern Region rather than as Birkdale School. It was very pleasing to see that each member of the Birkdale team gained at least one medal.
John Morgan (staff)
Mopilot Contacts
My name is Lorna Haycock and I would like to keep in touch with any ex-pupils from Birkdale. If you use the Internet, there is a service you can use at www.mopilot.com to keep in touch with friends through the 'net and a mobile phone. I would like to hear from anyone and maybe we can chat sometime! Please contact me at lornashaw2000@yahoo.co.uk.
Lorna Haycock (ex-pupil)
Care Department News
Good news! Natalie Jones, one of the Care Staff, has got engaged to Chris, her long-time boyfriend. Congratulations to Natalie and Chris from us all!
The Birkdale Rowing Club has been presented with a boat from the Sir Steven Redgrave Trust. This is an Olympic boat and we are thrilled to have this in our possession.
Peter Munro (Head of Care)
Sean Hoppe Retires
Rugby player Sean Hoppe, who supported our Garden Fete, has now retired from Rugby League at the top ofhis career.
Everyone from Birkdale School would like to wish him and his family all the best in his retirement.
Rita Lucas (H.S.A. Committee)