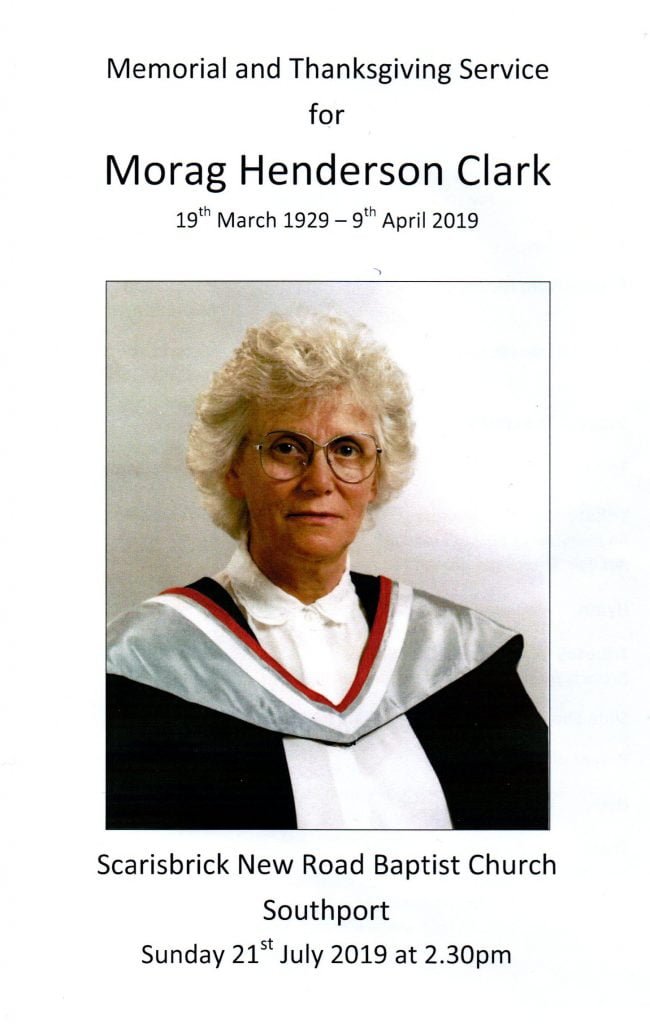 Yesterday former staff and pupils attended a Memorial Service for Morag Clark at Scarisbrick New Road Baptist Church in Southport. Morag's nephew Robin Scott was also present with his wife Liz.
Led by Elizabeth Rothwell, there were a number of speeches and a slideshow which included photos of Morag in her younger years and several taken during her time at Birkdale School.
Robin recounted some of Morag's early years with the family. Two ex-pupils, Victoria Haynes (nee Sefton) and David Walker, gave their own tributes to Miss Clark. Victoria's father, Chris Sefton, talked about meeting Miss Clark for the first time and how reassuring she had been about his daughter attending the school.
Elizabeth gave an overview of Morag's work at Birkdale School and around the world. So many things were learnt from this, including the moment Morag met Nelson Mandela in South Africa. Extracts from the numerous messages received from professionals in different countries were read out.
Thanks were given to the minister of the Baptist Church for allowing his church to be used for the service. Tea and coffee was served afterwards, which gave people a chance to catch-up and chat. It was nice to see among the ex-staff Mrs Janet Mulcahy (nee Morris) and her mother Mrs Morris, Mrs Margaret Dutton (nee Crowley), Miss Angela Baron, and Miss Baldwin.
Particular thanks must go to Elizabeth Rothwell for organising this lovely Memorial Service.
A condensed form of the speeches with some photos will be put online in due course for everyone to see.